Wondering what to do with that big head of cabbage? If your child avoids eating vegetables, cabbage could be a tough sell. Try our recipes for Cabbage Patch Cupcakes and Angel Hair Cabbage with Spaghetti Sauce, that cater to kids. If your child has a more adventurous palate, try some of our other cabbage recipes. Our recipes are designed to be cooked by adults, but we encourage you to get your child involved in the kitchen. Ask your child to help peel away the outer layers of the cabbage to reach the head. They can also help with mixing, stirring, and watching the timer. Kids should always be supervised when using kitchen tools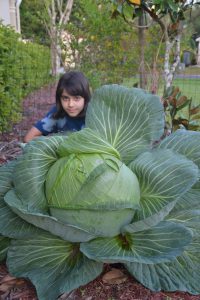 and when near stove tops and ovens.
Cabbage Patch Cupcakes
No one will know that green cabbage is the "secret" ingredient in these moist and tender cupcakes unless you tell them. It's best to use a box grater to finely grate the cabbage.
Servings:
12 Cupcakes
Ingredients
1 (18-ounce) super-moist carrot cake mix
2 cups finely grated cabbage
3 large eggs, lightly beaten
3/4 cup water
1/2 cup canola oil
1 teaspoon vanilla extract
Cream Cheese Frosting
Instructions
Preheat oven to 325.
Combine cake mix and cabbage in large bowl. Add remaining ingredients, and beat at low speed with an electric mixer for 30 seconds. Increase mixer speed to medium, and beat for 2 minutes, scraping bowl occasionally.
Place paper baking cups in 2 (12-cup) muffin pans; spoon batter into cups, filling two-thirds full.
Bake for 15 to 17 minutes or until a wooden pick inserted in center comes out clean. Cool in pans on wire racks 10 minutes; remove cupcakes from pans to wire racks, and cool completely.
Frost each cupcake with Cream Cheese Frosting. Refrigerate until ready to serve.
Cream Cheese Frosting
Servings:
about 2 1/2 cups
Ingredients
2 (3-ounce) packages cream cheese, at room temperature
1/2 cup unsalted butter, at room temperature
1/2 teaspoon vanilla extract
1/8 teaspoon salt
2 cups powdered sugar (about 1/2 of 16-ounce package)
Instructions
Combine cream cheese, butter, and vanilla in a large bowl, and beat at medium speed with an electric mixer until creamy. Gradually add salt and sugar, beating at low speed until blended.
Angel Hair Cabbage with Spaghetti Sauce
Cooked angel hair cabbage replaces the pasta, reducing the overall calories and carbohydrates in this traditional, hearty main dish. For a vegetarian meal, substitute your favorite meatless pasta sauce for the spaghetti sauce.
Servings:
6 main-dish servings
Ingredients
1 pound lean ground beef
1 medium onion, chopped
1 large garlic clove, minced
1 teaspoon dried basil
1 teaspoon dried oregano
2 teaspoons salt, divided
1/2 teaspoon ground black pepper
1 (28-ounce) can diced tomatoes, undrained
1 (8-ounce) can tomato sauce
2 (10-ounce) packages shredded angel hair cabbage
1 tablespoon olive oil
1 cup freshly grated Parmesan cheese
Instructions
Cook ground beef, onion, and garlic in a large skillet, stirring until meat crumbles and is no longer pink. Add basil, oregano, 1 teaspoon salt, and pepper, mixing well. Stir in tomatoes and tomato sauce. Cook over medium heat about 15 minutes, stirring occasionally.
Bring 2 quarts of water to boil in a large Dutch oven. Add remaining 1 teaspoon salt and cabbage. Return water to a boil, and cook, uncovered, 1 to 2 minutes or until cabbage in tender, stirring occasionally. Drain well. Return cabbage to Dutch oven; add olive oil, tossing to coat.
Serve sauce over angel hair cabbage; sprinkle with cheese.
Sautéed Cabbage with Caraway
Caraway has a flavor similar to cumin and both flavors pair well with raw or cooked cabbage. Heating the caraway with the butter and olive oil releases the flavorful oils in the seeds. You can substitute 1/4 teaspoon ground cumin for the caraway seeds. Just wait to add the cumin at the end of cooking along with the salt and pepper. If your child hasn't developed a taste for spices just yet, simply omit the seeds and sauté the cabbage in the butter and oil.
Servings:
4-6 servings
Ingredients
1 pound green cabbage (about 1/2 medium head or portion of larger head of cabbage)
2 tablespoons butter
2 tablespoons olive oil
1/2 teaspoon caraway seeds
1 teaspoon kosher salt
1/2 teaspoon freshly ground pepper
Instructions
Coarsely chop cabbage. Place cabbage in a large bowl, and cover with cold water. Set aside cabbage to soak for 10 minutes. Drain.
Heat butter, oil, and caraway seeds in a large deep skillet over medium-high heat. Add cabbage; reduce to medium, and cook 8 to 10 minutes or until cabbage is tender, stirring frequently. Season with salt and pepper. Serve hot.
Cabbage, Leek, and Potato Soup
This soup is delicious served hot or at room temperature, but the soup tends to thicken as it cools. Gradually add more broth or half and half to thin the soup to desired consistency.
Servings:
About 6 cups
Ingredients
1 pound green cabbage (about 1 small head or portion of larger head)
2 large leeks
2 tablespoons butter
2 tablespoon olive oil
3 garlic cloves, minced
3 small baking potatoes (about 1 pound), peeled and cubed
1 bay leaf
4 cups low sodium fat-free container chicken broth
1/2 cup half and half
1/2 teaspoon salt
1/4 teaspoon ground black pepper
6 tablespoons sour cream
Instructions
Coarsely chop cabbage, and set aside.
Remove root, tough outer leaves, and tops from leeks leaving 2 inches of dark leaves. Thinly slice leeks; rinse well, and drain. Set aside.
Heat butter and olive oil over medium heat in a large Dutch oven. Add cabbage, and cook 8 minutes or until cabbage is just tender, stirring frequently. Add leek and garlic, and cook 5 minutes or until leek is tender, stirring frequently. Add potatoes, bay leaf, and chicken broth; bring to a boil.
Cover, reduce heat, and simmer about 25 minutes or until vegetables are tender. Remove from heat, and cool slightly. Remove and discard bay leaf.
Process vegetable mixture, in batches, in a blender or food processor until smooth, stopping to scrap down sides.
Return vegetable mixture to Dutch oven. Add half and half, salt, and pepper, stirring well; simmer 5 minutes. Serve warm or at room temperature with sour cream.
Cabbage-Jalapeno Corn Muffins
The chopped cabbage and jalapeno add spicy flavor to this easy-to-prepare corn muffin. Be sure to wear gloves when seeding and mincing the pepper. Save the task of working with peppers for the adult cooks, not kids.
Servings:
6 muffins
Ingredients
1 (8.5 ounce) box corn muffin mix
1 cup finely chopped green cabbage
1 small jalapeno pepper, seeded and minced
1 egg
1/3 cup milk
Instructions
Combine muffin mix, cabbage, and jalapeno in a large bowl; make a well in center of mixture.
Stir together egg and milk, blending well; add to muffin mixture, stirring just until dry ingredients are moistened.
Spoon batter into lightly greased muffin pans, filling one-half full.
Bake at 400 for 15 to 17 minutes or until golden. Let stand 2 to 3 minutes before removing from pans.
Braised Cabbage with Root Vegetables
Serve this nutritious side dish along side roast pork loin or grilled pork chops in the late fall or winter for a colorful and delicious meal.
Servings:
6-8 servings
Ingredients
Cooking spray
1/2 medium head green cabbage (about 1 pound), trimmed
2 small yellow onions, cut into 1/4 inch slices
2 large carrots, peeled and cut crosswise into 2-inch pieces
2 medium turnips, peeled and cut into wedges
2 medium-size sweet potatoes, peeled and cut crosswise into 1/2 inch slices
2 tablespoons water
2 tablespoons olive oil
1 teaspoon kosher salt
1/2 teaspoon coarsely ground black pepper
1/4 teaspoon crushed red pepper
Instructions
Coat a 9 x 13 inch baking dish with cooking spray. Cut cabbage into 6 wedges. Arrange wedges in a single layer in baking dish.
Separate onion slices into rings. Layer onion rings, carrots pieces, turnip wedges, and sweet potato slices evenly over cabbage. Coat vegetables well with cooking spray, and pour olive oil slowly and evenly over vegetables. Add water. Sprinkle vegetables evenly with salt, pepper, and crushed red pepper.
Cover baking dish tightly with aluminum foil. Bake at 325 for 1 hour or until vegetables are just tender. Remove foil, and increase oven temperature to 400. With oven door slightly ajar, bake about 10 minutes or until vegetables begin to brown. Serve warm or at room temperature.
Pear & Red Cabbage Salad
Use with permission from
KatiesKrops.com
by Katie Stagliano. "
I am often called the cabbage girl in honor of my 40 pound cabbage. This summer when my friends & I harvested over 400 pounds of pears it only seemed right to come up with a recipe that paired the pears with the vegetable that started it all. It is fun, it is really different & it is delicious!"

Ingredients
1 small red cabbage, cored it and thinly sliced it (about 6 cups)
5 pears, cut into thin slices
1 carrot, shredded
1/2 cup golden raisins
1/2 cup extra-virgin olive oil
1/4 cup balsamic vinegar
2 tablespoons honey
1/2 teaspoon salt
Instructions
Place the cabbage, carrot, pear and golden raisins in a bowl and toss together. Wisk vinegar, honey, salt and olive oil drizzle on top of the salad. Toss together and enjoy.
Nutritional Information
Nutrition Facts
1/2 cup shredded cooked green cabbage:
Calories:

17

Carbohydrates:

4g

Dietary fiber: 2.5g
Sugars: 2g
Protein:

1g
Vitamin C: 47% DV
Vitamin K: 102%
Folate: 6%
Manganese: 8%
Calcium: 4%
Cabbage is a very nutritious vegetable. It contains a powerful phytonutrient (called sulforaphane) that boosts the body's ability to get rid of toxic substances. This phytonutrient also may reduce the risk of some forms of cancer. Cabbage is especially high in beta-carotene, vitamin C, vitamin K, and fiber. Be careful to cook cabbage as briefly as possible and in stainless steel pans to avoid too much of the smelly sulfur compounds that overheating may release. Raw cabbage contains about half the calories and carbohydrates as cooked cabbage, but some of the other nutrients are reduced when cabbage is cooked for very long.
You can find more vegetable and herb recipes on the Bonnie Plants website.